News Archive
---
17th November 2014
My Memories of Thorne
By PC Richard Bond
It was 4 August 1958 when I first started working for the West Riding Constabulary as a Police Cadet at Thorne Police Station. Fifty six years ago according to my reckoning. My memories of those days are so crystal clear in my mind, unlike my short term memory of today now that I am a Septuagenarian...
<< See more here >>
---
October 2014
The historic Humber Keel Daybreak came to Thorne October 2014.
Daybreak was built at Dunstons of Thorne in 1934, she is the 2014 flagship for Historic ship register.
Daybreak
She is fully rigged and one of only three square rigged Humber keels left. She has sailed from the Thames and is going to re-create her original trade route which was 100 tons of grain from Hull to Doncaster. She will be carrying a small token cargo of grain on this voyage.
Daybreak will be staying over in Thorne for up to a week.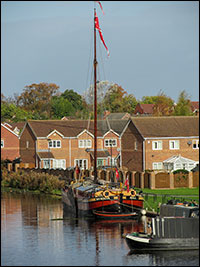 Message from Tony Woodward the skipper of the Humber Keel Daybreak.
We are now firming up dates for the voyage from Hull to Doncaster. All being well we will be going from Beverley to Hull on Saturday 4th October and then to Keadby on Sunday 5th We will stay in Keadby for the week and there will be a programme of activities on the 11th and 12th October.
We will then be going to Thorne during the following week and will be there for the weekend of 18th/19th October. We will then be travelling to Doncaster, arriving for the weekend of 25/26th October.
For more information please see our website: Daybreak
<< Interview >>
with
Tony and Sally Woodward
on Daybreak, Saturday 18th October 2014
© Thorne Moorends Regeneration Partnership. All Rights Reserved.