Thorne Old Hall
The house known as Thorne Old Hall stood until pulled down in 1860. Built partly of brick and stone, it had a cabled-hip roof with a low ornamental porch over the latter were thought to be the arms of Edward Steer and with the initials E.S. and a date of 1573. The Steer coat-of-arms consisted of three goats heads and a chevron on a shield.
The building became debased by the lowest uses after the family left the Hall. It became a poor house, for want of a better name, also a grog shop called the 'Blazing Stump' before decay and neglect to the house resulted in its destruction after almost 300 years.
It is a matter of regret that a house with the connections with the Vermuyden's work partners and family in Thorne should have come to be demolished and the stone taken away for other building work. Some of the stone-part of a mullion was left on the site after the demolition. Other pieces - two arches and lintels - were taken to Maples Gardens, Thorne.
Cottages at Bank End were reputed at one time to have
'turf roofs' and were owned by a Mr Brookes, prior to demolition.
For some years the grounds around the Old Hall site was in occupied - a railway passenger coach was used by a Thorne family as living accommodation. Father, mother and children had a good happy life in their years of living there.
It was at one time known by local boys as `Dickie Fisher's Orchard'.
The man seen for many years scything the grass in the orchard was known as Harry 'Cuckoo' Holgate.
The area of The Hall and Pinfold faced the bank on the now Pinfold Lane and Queens Street with a footpath that is not Whites Lane but a separate one that is now hard to find. On the 1850 O.S. map of the area, it leads to Foredales Road.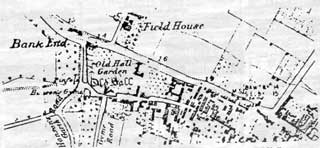 Part of the 1848. O.S. map showing the site of the Old Hall.
The site along with old cottages sat at the corner of Pinfold Lane and Fieldside through to Queen Street. A Thorne firm of builders, Farmer & O'Neil, were contracted to build on the site two blocks of flats (three floors of 25 apartments) and some houses in Pinfold Lane in 1951. These well built dwellings are still sound and solid almost 50 years later although the site has a history of life from the year 1573.

Some Thorne folk will still remember the orchard area but many know only the flats and houses that now stand on the site of Thorne's Historic Hall.
-- F Dallas
© Thorne Moorends Regeneration Partnership. All Rights Reserved.