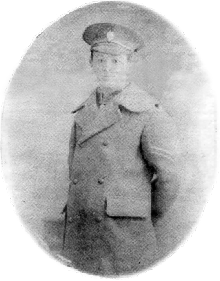 T.E Clarke - during his 1914 - 18 Millitary Services
The glass-sided hearse as it appeared in a trade advertisement.
The last days of T.E. Clarke's Thorne (picture taken from the Methodist Church grounds on the opposite side of King Street.)
THE business of T.E. Clarke is still remembered in Thorne as '6½d' Clarke (approx. 3p). It was the father of the later Harry Clarke who earned that nickname.
Thomas Ernest Clarke had a shop on Queen Street/Finkle Street. He had a fair understanding with the customers as to what was required by them - it was the reason for the '6½d' Clarke title - fair in price and fair in quality.
Primarily a draper's shop, '6½d' Clarke had a go at anything to make a living - Photos and picture framing were early diversifications.
He would also transport people's goods by handcart. A regular job for '6½d' was to attend Alan's Sale Rooms in Stainforth and hire himself and his handcart to deliver purchased furniture for Thorne buyers. One documented delivery from the Stainforth sales was a piano for a lady in Thorne - a tremendous task on a handcart!
ELECTRIC
Incidentally, Thomas Ernest's household in Queen Street was probably the first in Thorne to enjoy electric lighting after he installed a generator.
In the '20's and '30's Thomas Edward was also a funeral director, using a beautiful horse-drawn hearse and would hire a horse for the day of the funeral.
One black horse which was hired regularly belonged to Mr Key of Moorends. He paid 5s (25p) for the hire and there was 3d (just over 1p) for Mr Key's son to drive the hearse. There was also an arrangement with the lad's school to allow him leave of absence.
The horse was led from its field, at the rear of the Winning Post down to King Street where the lad groomed it, painted it's hooves black and put the harness on including the black plume. The lad was then dressed in a long black coat and top hat (which apparently fell over his eyes if he hit a bump in the road). Apparently to impress the clients, '6½d' who had his own tailor-made coffin stood upright in the corner of the shop, would stand inside it and demonstrate how much room there was and how comfortable his coffins were.
In later years the horse drawn hearse with it's glass-sided body was left outside - the wheels were taken, the glass smashed, the turntable for the front wheels and chassis were, at a later date, burned during a site clearance.
After he retired the business was passed to son Harry Clarke and his sisters. For a few years there was another shop opened at Stainforth and a shop on King Street, Thorne which was the last to close in 1981.
T.E. Clarke lived at the rear of the shop on King Street which had workshops, garages and stables. In the garage were an Austin 16 car and a 1927 Rolls Royce hearse which were later sold before the closedown of the shop.
Harry Clarke's sister worked in the shop for many years. Mrs Bill Berry also worked for a long time in the shop until it finally closed.
Over the years the shop sold men's work clothing, caps, hats, all kinds of women's clothing, tablecloths, curtains, household furnishings, bedding, sheets, pillows, blankets, etc.
PARADE
T.E. Clarke was noted for his sense of humour. In 1935 while he was still an undertaker, he was asked by Thorne Traders to put together a float to take part in the George V and Queen Mary Silver Jubilee celebrations parade.
'6½d' turned out his glass-sided hearse – inside were two coffins covered with the Union Jack. '6½d' was the driver, with an advert of his services advertised on the back. It was not considered to be in the best of tastes by the folk of Thorne.
Needless to say he didn't get a prize for best-dressed float despite the smart turnout.
SHOP CLOSES
When the shop finally closed a relative came to oversee the close down and for some days he worked with Mrs Berry in the shop. The last customers are believed to be a Mrs Shaw and her daughter.
Although it is only 16 years ago, it now seems a life time away, soon to be forgotten. Just another `yesterday's memory' of Thorne!
F Dallas
© Thorne Moorends Regeneration Partnership. All Rights Reserved.