MALEHAMS florists and nurserymen, have been synonymous with Thorne for 72 years. Last September the family connection with the firm ended when the two `Sons' retired. However, the name lives on - here is the story!
Nancy and Earnest pictured at the Morpeth nursery in the 1920's
EDMUND Maleham was born in 1871 at Thorne Lock House, the eldest son of the lock keeper and his wife, Abraham and Emma Maleham. Edmund grew up in Thorne and his wife Ada was from Hatfield Woodhouse. Edmund chose a career on the railway being Station Master at Thorne North in 1906 when Thorne Colliery was being sunk, and rising to be Station Master at Pontefract, Northallerton and Durham City.
THORNE NURSERY
Ernest Maleham (Edmund's youngest son) was born in Hull in 1906 and at 3 months moved to Thorne North. He moved with his father's different appointments and left Blyth Grammar School (Northumberland) to start work at Matheson's Nurseries in Morpeth. His future wife Nancy worked in the floristry department of the same firm.
Ernest and Nancy were married in 1928 and; moved immediately to Thorne to establish a Nursery on 3½ acres of land on Southfield Road. They lived for 3 years in Ellison. Street before opening a fruit and flower shop at No. 2 Silver Street (now demolished). At this time they stood at Doncaster Market, Tuesday and Saturday, and Stainforth on Friday. The transport was horse & cart followed by motorbike, sidecar and trailer progressing to vans, lorries etc. Ernest and Nancy's three boys were born at Silver Street - Ken (1932), Peter (1935) and Barry (1944). Ernest was an organist and violinist and local preacher of the Methodist Church.
Earnest Maleham, aged 90.
Ken, Peter and Barry attended local schools and eventually Ken and Peter joined the firm - Peter (1950), Ken (after National Service in RAF in 1953). Barry eventually left Thorne to pursue a career in music in Durham City.
Ken and Peter both married local girls, Ken - Sylvia Moody (1954) and Peter - Greta Leggott (1955). Ken and Sylvia had 2 daughters Jill (1959) and Denise (1963) - Peter and Greta also had 2 daughters, Joy (1960) and Julie (1961).
In 1962 a formal partnership was formed with Ernest, Nancy, Ken and Peter, and "& Sons" added to "Ernest Maleham". About this time (mid-sixties) market trading ceased and the firm took a new direction relying almost entirely on landscape gardening and floristry.
In the mid-60s, Ernest & Nancy built a bungalow on the Nursery at the end of Peel Hill Road, and Peter & Greta moved into the shop on Silver Street and Greta managed the shop.
In the 70s the shop transferred the business to 4 The Green and became a florist only, still managed by Greta.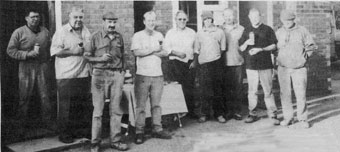 The last days of Earnest Maleham and Sons in September 2000.
The nursery workforce
In the early 80s, the business purchased the Old Westminster Bank in the Market Place (No. 12) and converted it to its present day form, and until 2000 was successively managed by Greta and her two daughters Joy and Julie. (Ken's daughters Jill and Denise became full time teachers and Sylvia a school secretary).
Nancy died in 1988 and Ernest in 1998, leaving Ken and Peter as sole partners.
2000 was a momentous year and what was expected to be the final year of "Maleham" as a trading name in Thorne. Both arms of Ernest Maleham & Sons ceased on 30th September, but the new owner of the landscaping side, Mr Alan Crainer, decided to trade as "Ernest Maleham & Co" and the newly formed floristry business owners Mr & Mrs John S. Price, have decided to call the shop "Maleham Florists", (trading in much the same way with the former experienced staff)..
Edmund Maleham (front left) and staff at
Thorne North Railway Station, circa 1906
Florist Shop staff
Ernest Maleham outside his shop and family home
2 Silver Street, Thorne.
BEST WISHES TO `NEW MALEHAMS'
Ken and Peter, now retired, offer good wishes to Alan and John in their new "Maleham" ventures.
© Thorne Moorends Regeneration Partnership. All Rights Reserved.